I first learned some of the few things I know about Islam from the best history teacher back in high school, Sir Beni (I kept my notes color-coded only because they were for his class. I drew penguins on every map of Asia/world a we had to sketch for the tests just because I knew he wouldn't mind hahahaha). He was also traditionally the Philosophy professor for 4th year but he went on a trip to Europe just when I got to 4th year. Sadness. Anyway, I honestly don't know if he still teaches in Assumption Antipolo but when I was still studying there, he was one of the "legend teachers." And while I can write a paper on the greatness and wisdom of Sir Beni (he is a teacher that transcends time!!), I have to remember that this post isn't about him but of my KL trip.
Point of the intro was, supposedly, how most of what I know or remember about Islam was really still from Sir Beni. I only fed my curiosity about their beautiful calligraphic images from museums (such as the gallery at the Asian Civilizations Musuem).
I haven't been to KL (or anywhere in Malaysia, for that matter), so I decided to hit two birds with one stone and join the NUS Muslim Society to their one-day Islamic Awareness Week trip to KL. Based on what has happened to me in the past week (self-injuring myself accidentally), my friend warned me to take care and since I'm blogging right now, luckily it only means I haven't encountered any serious mishap. But my trip wasn't without any interesting experiences either. I'm going to flood this post with my usual silliness and senseless ramblings so be warned.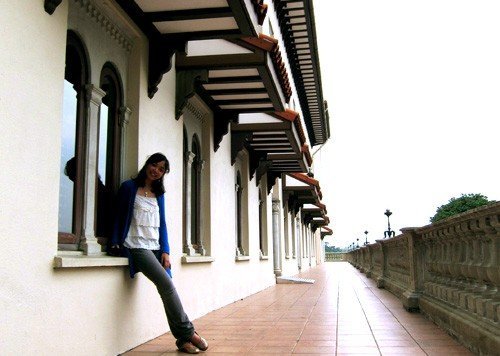 The S$50 trip was primarily an excursion into Islam and while it wasn't exactly a vacation trip, one of the best things about going on that trip were:
meeting a lot of wonderful, friendly, very nice and thoughtful people. Not just NUS students or organizers but even their friends/family members that went on the trip. NEW FRIENDS FTW! The guys were all so funny, haha, that it made me realize that most guy-groups are really kinda the same wherever I go.
Getting to know the Islam religion and culture. Maybe not so much (I wasn't able to attend most of their lectures during the Islamic Awareness Week) but I have learned quite a few things too! There are quite a lot of Muslims in the Philippines also and I've had two teachers in the past (back in high school) who's either from the south or taught/had experiences living in the South. I'm the type of person who enjoys learning about cultures and new places!
Trying new food and eating LOTS of ice cream (simply because it's cheaper in Malaysia).
Getting held up at the immigrations because I forgot my student pass in the bus. And then learning that the bus driver lost his passport.
I start with #4 because well, that's where the trip technically starts. I mean, I was THIS CLOSE to stepping into Malaysia until oh, apparently we need our Student Pass to get to the other side. Continue readingIslam is a beautiful religion