Five years of firsts

The roller blinds were pulled down but sunlight was spilling through the edges of the window. It was warm under the duvet and when I pulled my hand out to check the surface of our quilt, it wasn't damp. It was a huge upgrade from the humid mornings at our old rental and a deep, blissful realisation finally settled in: this is our house, and I am no longer renting!
Honestly, the fact that I am no longer renting was the absolute best part of it.
1. The first room
The first room I rented was a townhouse in a suburb north of Melbourne CBD. I asked my colleagues for advice on where to rent, and in the onboarding document they created for staff that moved from overseas had this printed in big, bold letters:
NORTH OF THE RIVER ONLY!
The Yarra river split the inner Melbourne suburbs into two and my tech-team colleagues had unanimously voted the North side being the superior side. I had no opinions, having never lived or visited Melbourne prior to my work relocation. Being very practical, my default was to find a sharehouse. How else would I be able to save if otherwise!?
I got lucky and found the sweetest housemate who lived in the upstairs bedroom, where the kitchen, dining, and living rooms were. My room had the en suite downstairs, right by the entrance, and I lived in it almost as if it was a student apartment, going upstairs only for the shared amenities. I had always thought this layout was unusual; I've never had a bedroom just in front of the entrance in the other Asian cities I've lived in, but it seemed common enough in Melbourne. I've always had this morbid imagination that if a robber got into the house, I'd be the first victim of crime. Maybe it's because I was born in a more chaotic country that I felt more vulnerable sleeping in an entrance bedroom. Cultural differences, hey.
The room was unfurnished and I had to get everything by myself. Furnishing it was not the most pleasant of memories. The shops were quite near, just a few bus stops away. I had no car, no license, and no driving skills so I had to figure out bringing back home-wares that I needed. Everything was foreign: the roads, the shopping centre layouts. I felt very, utterly alone. I walked out of Kmart with a trolley of needs: a pillow, duvet, bed sheets, a bin, flat-packed bedside and console tables, and a few other necessities. I needed to catch an Uber but I wasn't familiar with any of the pick-up spots at all. I was hopeless with navigation, even inside a shopping centre, and had to circle around, walking back and forth in various directions until I finally managed to find the rideshare pick-up spot and get a ride.
The driver dropped me off in front of the house and I had to put all the items I bought on the sidewalk, bringing them into my room in batches because I was by myself and couldn't possibly hold everything all at once. I held back my tears. I mean, I was in my late 20's for fcks sake, shopping for my own furniture shouldn't feel this hard.
As with everything in life, time passed. I got to know the city, my suburb, and my flatmate and the loneliness slowly ebbed away. I felt like an independent adult woman again. I put up a framed alpaca unicorn to make my space feel more like me, and though still terribly missing the friends I left in my last city, life was somewhat enjoyable.
I would've stayed in that townhouse longer if I hadn't met Dylan and we both decided that moving in together will save us some rent money.
2. The first apartment

Dylan and I found an apartment close to my work. Rent was cheap for a two-bedroom/one-bath/one-carport given that the building was built in the 1960's. It was old enough that there's no elevator even though there were four floors. There was also no air-con, so we'd have to manage in summer, and for the first year it didn't have fibre internet (yes, in Australia). It didn't have the charm of a Victorian-style home or art deco inspired architecture but it was liveable. It was also south-side.
I had now crossed the other side of the river.
We moved in using a van we rented since we hadn't accumulated too many things yet. That was the move that cemented my age into reality: I had intense back pain two days later, so painful that I passed out from it. Dylan brought me to a nearby hospital and that $250 lesson meant we always hired movers afterwards. It hadn't even been that long since we've moved in and this place was already a historic moment in my adulting journey.
Like the soreness of my back, the apartment was showing its age in the layout of the floor and details that are impossible to miss. Each room was within enclosed walls and behind separate doors: the kitchen, the living room, the bath, and two bedrooms. The hallway was small and narrow and the cupboards were worn and the closet had stains on them. The kitchen floor vinyl was peeling, with tape keeping a chipped piece in place. The closet handles didn't match. The landlord never properly replaced the slightly disgusting bath tub: they had just repainted it, which meant the paint kept peeling off after each bath. But, well, rent was cheap.
Compared to modern apartment buildings built in the last ten years, the size of the rooms were bigger: a masters bedroom that could fit a super-king bed, more than enough storage in the kitchen with a full vertical cabinet for the pantry, and the living room as big as a tiny studio. So that was the bright-side. I managed to convince Dylan to get a medium-sized plant to make the space feel more like a home than a shoebox. And it helped — for a while.
COIVD-19 lockdowns in Melbourne kept us stuck inside the uneven cream-coloured walls and made me reconsider: maybe we should find a modern apartment to live in. Maybe it's worth the extra few hundred bucks a month. Every visit to a friend's better-looking, newer apartment in the city left small crumbs of envy: look at the modern bathroom, how evenly the walls are painted, how thick the carpet is. Surely we can find somewhere better.
With international borders closed, rent was crashing and it became the perfect time to move.
3. The first with amenities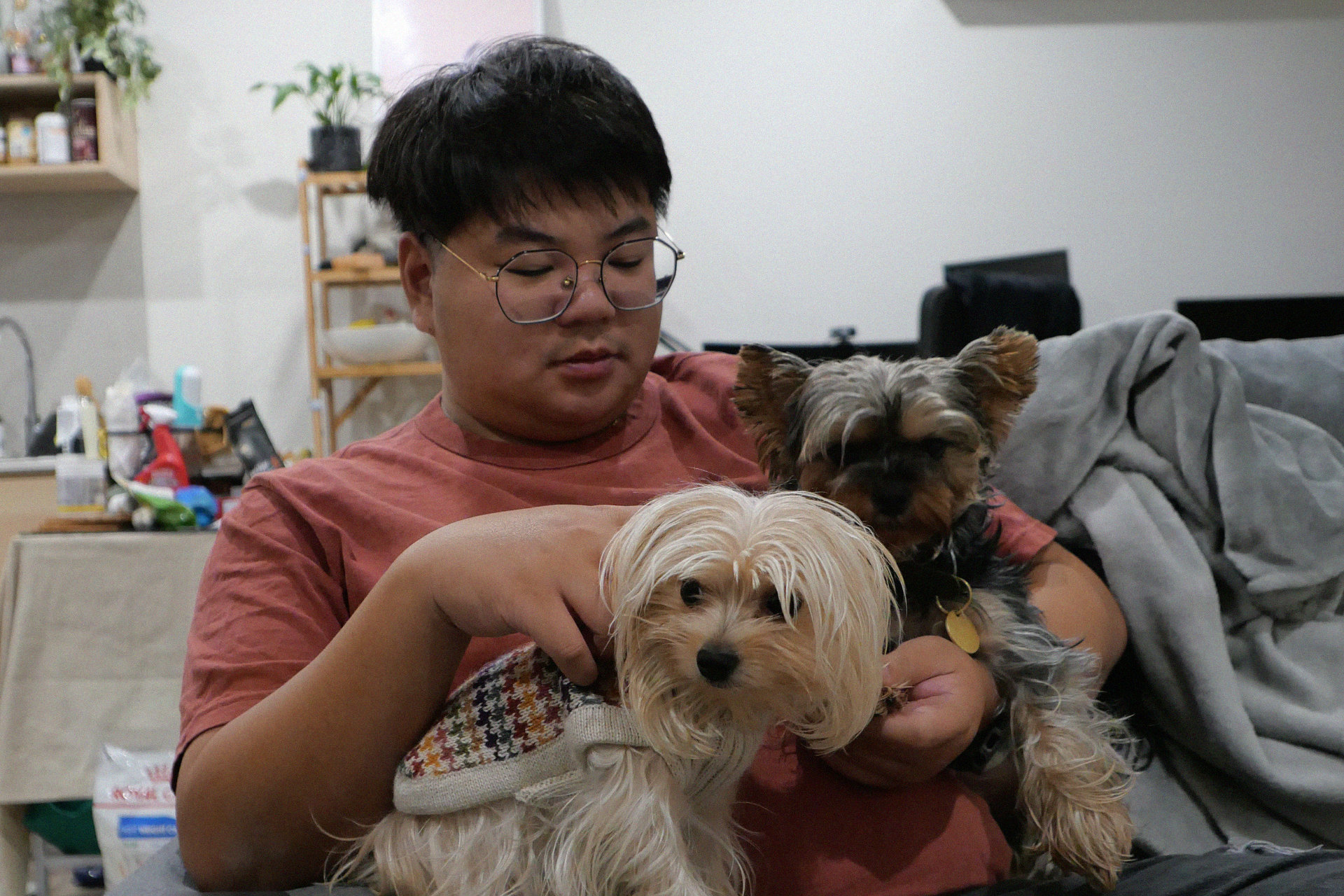 Going back to the advice of ex-colleagues: NORTH OF THE RIVER ONLY!
Now that I've lived both on the North and South sides, I realised I preferred the south.
This is what I think: the northern suburbs had cool pubs and music events and breweries. They were things that didn't exactly made me feel wanting. The huge northern suburbs sprawled wider, with most things in driving distance. Without a car, my only public transport option from a house to shops was by bus. And bus schedules (like the train schedules) were a far cry from what I was used to in Singapore.
Meanwhile, I found the south-side vibe a little more charming. Beach-side cafes aren't too far even by commute. Trams are there for easy transport in-between towns and sometimes even into the city. Most importantly, I didn't have to change trains at Flinders Station just to get to work.
So we continued to stay south of the river.
We moved into this new unit because of the big patio and the rent price. It was the ideal setup in summer: I had a carpet laid down outside where I could sit and soak under sunlight. On work-from-home days, I pulled out the sofa bed onto the patio to work under the shade with the trees and grass blocked only by the fencing. The communal garden made our space feel a little bigger than what it really was — a one-bedroom apartment.
In this home, we started to collect more things:
Friends; the best thing about this place was our friends who lived in the same building, only a few floors up. Over time we made more friends who were also never too far away. We ate out frequently. We drove out of town for day trips. Our weekends were busier with friends showing us how to enjoy outdoor life.
Pets; we got two dogs less than a year apart.
Furniture; a two-seater recliner was our most expensive purchase, and it was the only recliner that fit in the small apartment. The four months was worth the wait, and I didn't realise just exactly how heavy electric recliners were until it was delivered.
Experiences; once in a while we used the building amenities: the pool (Dylan mostly), the jacuzzi (only thing I was interested in), the sauna, the gym, the study rooms (I paid a uni student to teach me Chinese for a few months). We started camping, surf boarding, and cycling while quickly filling the storage locker allotment in the basement.
We filled every empty space with our hobbies and our dogs. It didn't take too long for our one-bedroom unit to feel too cramped and too busy (mostly thanks to my shopping impulses). Typical Melbourne weather topped buy an unusually wintry year meant the patio barely got any use anyway; it was always too chilly for me to stay outdoors. I think we only had ten, hot summer days that year. Barely a summer, more like an extended autumn.
We extended our lease for another year because we were too lazy to move and I had just managed to negotiate our rent to go up by $40 per week instead of $60. That was a win for the next twelve months until borders reopened and finally the landlord decided to jack up our rent by an additional $700 a month. Wtf is that $700 price hike!? Even the costs of moving houses was cheaper than the convenience of staying.
And so, after two years of living in a modern apartment with a pool, gym, jacuzzi, sauna, and BBQ amenities, we moved again.
4. The first outer suburb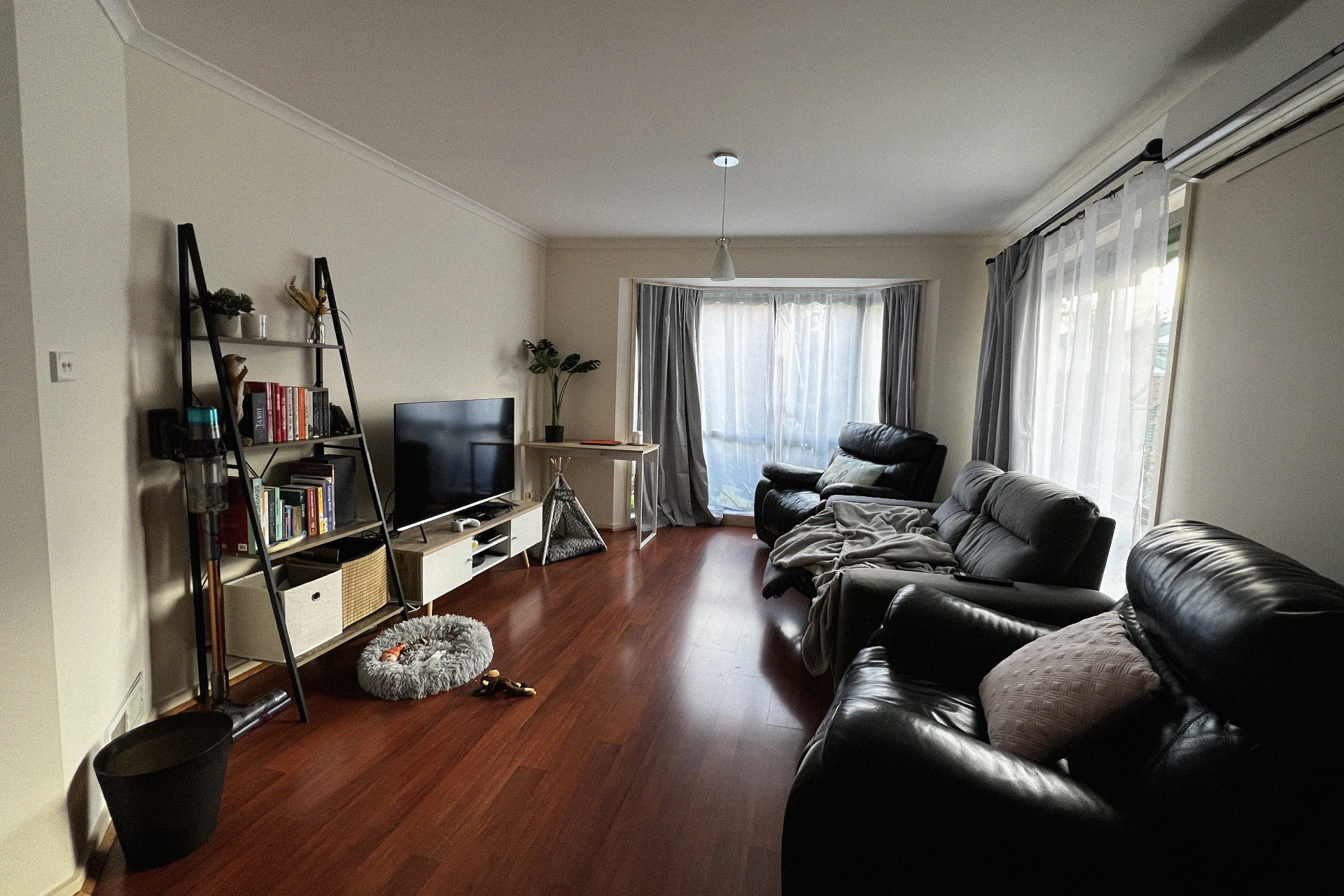 We wanted to dip our toes into outer suburb living just to see if we wouldn't mind living much further out. Since we were planning to buy a house at one point, we might as well try staying at a suburb with properties we can afford.
And the thing was, I didn't mind the distance at all. I liked that the house never left me wanting for more cupboards or cabinets. I loved hearing the pitter-patter of Nami and Kino's tiny paws against the wooden floor, lively sounds that I would never have heard in a fully-carpeted apartment. There was an outdoor deck for a barbecue in warmer weather. The neighbourhood was incredibly safe and the last known crime was a thief, and he was caught, about a decade ago. I could breathe in crisp, fresh air every morning though I could always see the fog formed from exhaling when I'm outside. We were closer to the mountains than we were to the city which was hard to forget when icy mornings rolled in with a fog.
Moving houses in winter meant we were living in a poorly insulated, old house in the coldest time of the year. It was more comfortable back when gas prices for heating weren't crippling. The single modern AC/heating inverter could not do the job. It was almost impossible to feel warm indoors without a puffer jacket and a beanie, and this was with the inverter turned on. I'm running the dryer almost daily just to get dry towels for our baths. Hanging clothes outdoors didn't dry them. By the time I finished work at home, it was too dark and too cold to walk two small yorkies for very long. The dishwasher would grow mould if I didn't empty it as soon as a wash finished. Luckily, like most houses in the area, it had solar power which cut down our electricity — but not by much. Energy bills still cost us over a hundred bucks a month.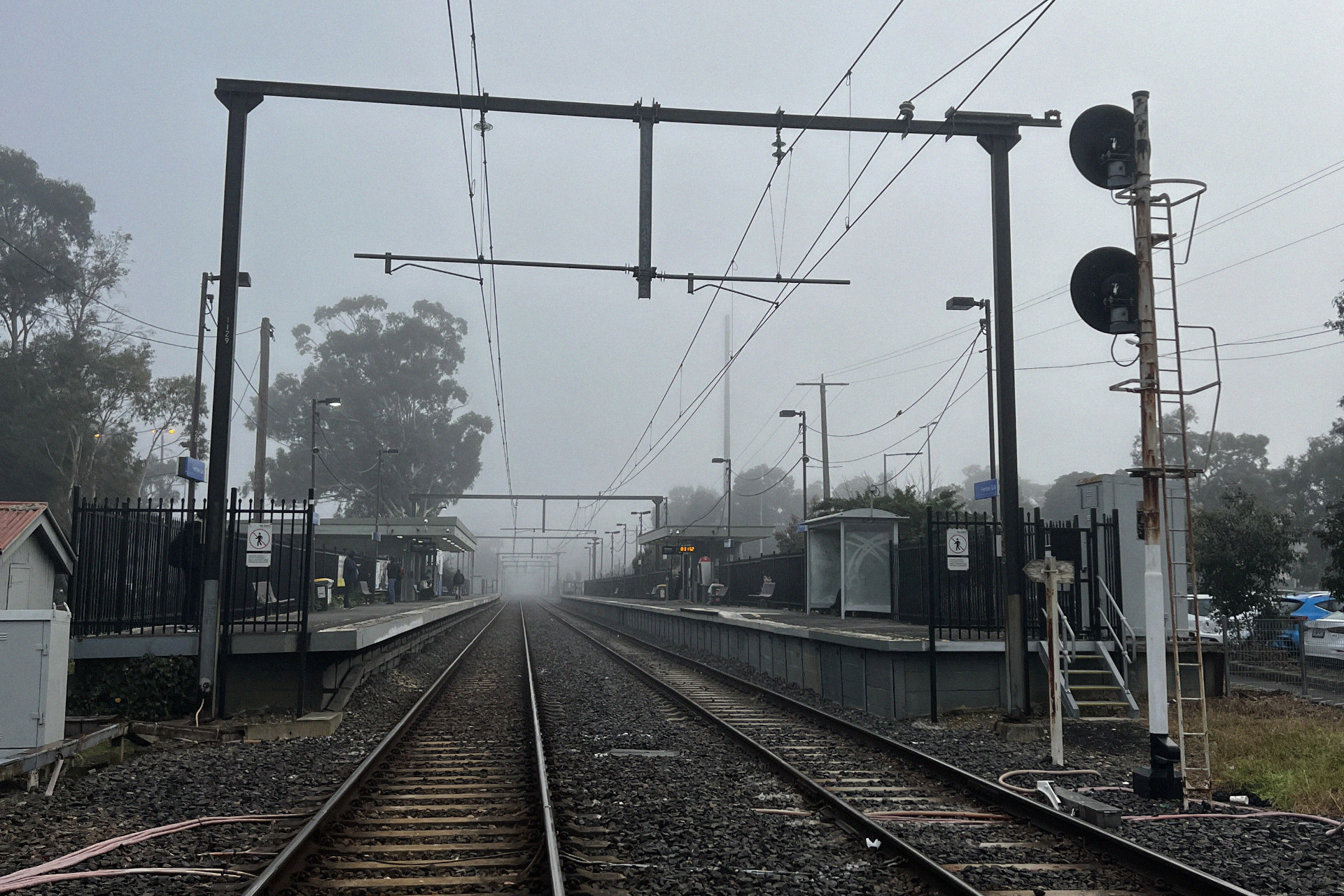 I could never get used to the constant freezing temperature inside a house that was built beside a mountain in 1998. The only warm spot was directly under the inverter, where warm air blew. It disappeared within seconds of hitting my face. Insane gas prices meant I didn't dare run the gas heating unless I was so sure I'd be happy with a $300 gas bill. Within the first week, the dampness and the chill made me want to yeet myself into a warmer suburb. I could never feel snug and the constant discomfort spurned me to move again as soon as we could.
I just didn't expect it to be three-months-later "soon".
5. The first home we owned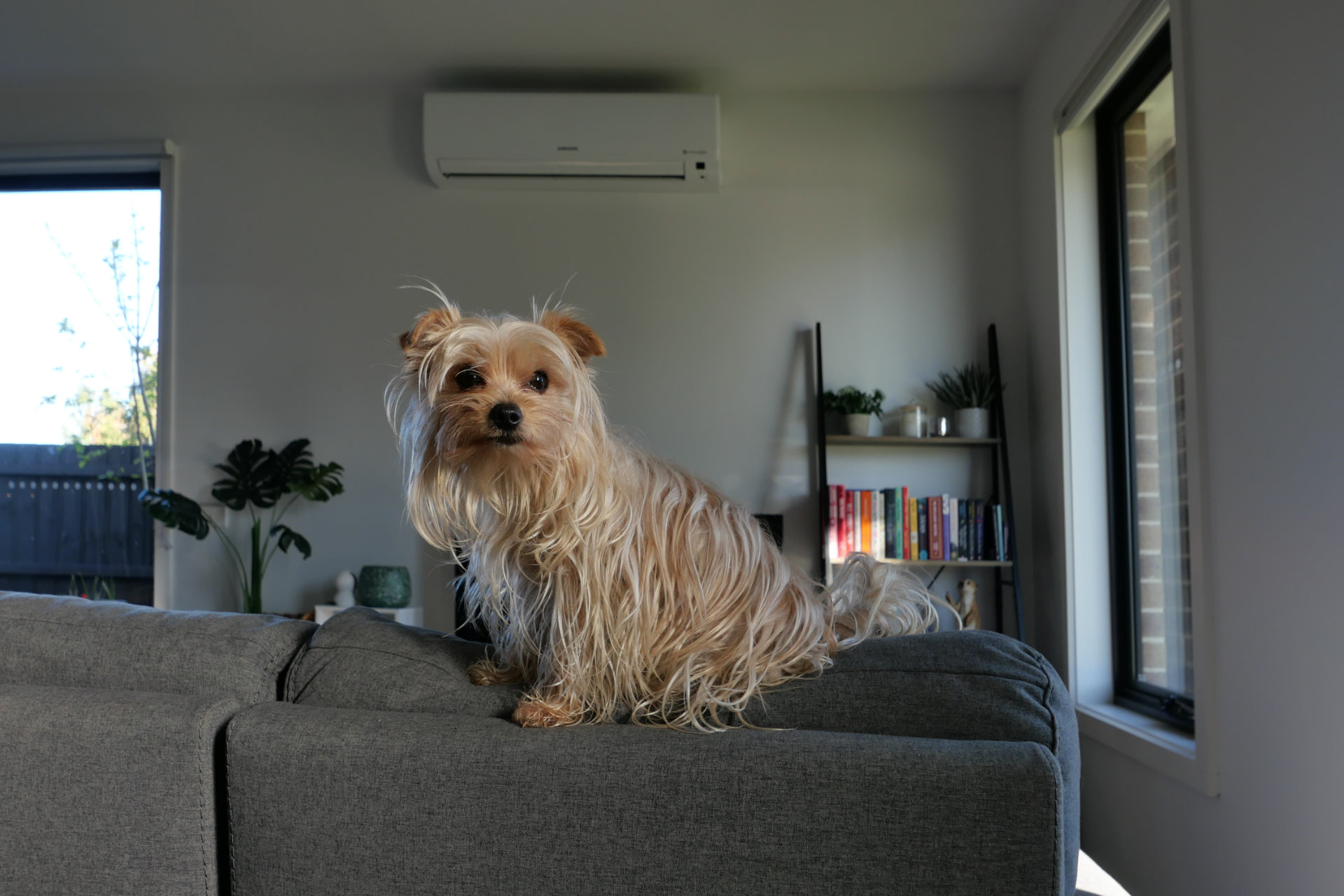 Before we moved in to our "new" house, our friend Hao (our proven source of practical and sometimes life-altering advice) said that we should set aside at least $10k to fix things up. We made some decisions pretty quickly:
I wasn't a huge fan of the 2nd floor carpet flooring, but we'll keep the new carpet in the meantime.
We will get the termite barrier done before moving in.
We will get CCTV cameras set up before moving in.
We will get a smart lock (we got the Ultraloq).
We need a fridge.
What I hadn't planned for? End-of-financial-year sales. Stocktake and clearance sales. Moving houses in this winter season of sales sounded like the best timing on paper — unless you're trying to control your cash flow like me. Of which I've failed multiple times to date. Every headline that said "WINTER SALE" was a litany of barely-checked impulses and it took my full mental concentration to say no. I took literal days to decide if I should or shouldn't buy something. The challenge of NOT buying was the test of character I was totally unprepared for.
Renting for the past five years was half a decade worth of self-control. I've never indulged in furniture I felt I could love because I always went for practical and cheaper pieces as renting is so transitory. Buying second-hand furniture is difficult when I don't drive a car. I've also changed my home address five times in the last five years and moving in together with Dylan at one point led to a furniture mishmash of: (1) my undecided style preference, (2) Dylan's practicality, (3) our budget, and (4) rental restrictions like "no holes in the wall". But moving to our own house let loose my usual mental checks and balances.
A new house is a blank canvas, but our bank account is almost as empty as the home we're moving into.
Luckily, I have Dylan as my voice of reason and I hadn't completely emptied our pockets yet.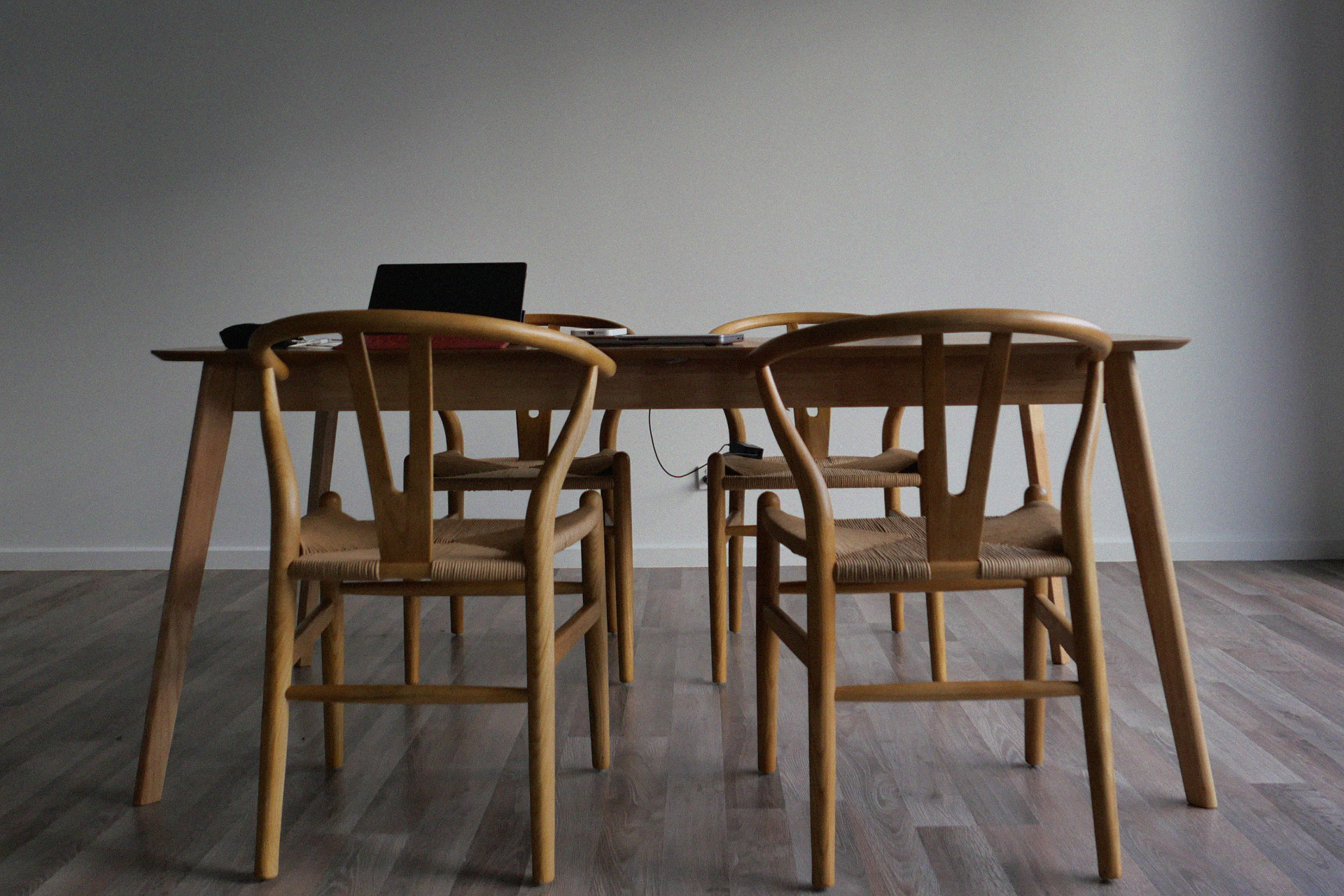 I almost can't believe it's only been two weeks since we bought our house and one week since we've moved in. The small bits and pieces of new furniture have been trickling in, lighting up my afternoons like the arrival of christmas presents every few days. I unpack little by little in the early mornings before I start work, then again onto the next unopened box after "End-of-Day". I had taken advantage of some sales as the fear of a good deal triggered some cart check-outs. I now find myself counting down the days until the end of the month where we pay all our bills and the credit card resets.
I am that keen to make this house feel more like our home.
Clothes now hang inside our closet. We've replaced our double-size duvet for a super-king, big enough to cover our new bed. Books and video games sit on the intended shelves. The kitchen has been organised, and a new dinner set had been baptised this weekend. The garage shelves had been set up and storage containers fit perfectly like a jigsaw puzzle. A drought stopper had been affixed on the front door to keep the cold air from seeping in. Parcels and moving boxes are stowed away in a spare bedroom, still messy but out of sight. Cardboard boxes ready for the recycling pick-up are waiting in a dark corner in the garage.
Dylan and I had just wrapped up our debate on which battery mower to get.
Three out of four igniters on the gas stove are broken, and I've yet to schedule a tradie to fix it.
I'm looking for inspirational pegs to design our home office.
Things inside the house are slowly coming together.
Dylan reminded me that there's no rush to get everything done, but let's just say I'm just fuelled by the adrenaline of desire at this point ;)