From an iPad to an Android tablet

It was pay-day last week (MONEY!!!!!) so I bought myself a mid-to-low range tablet (not that much money!!!): a Cherry Mobile Bolt (rebranded from Ainol Novo 7). I was thinking if I should get the 2nd generation Nexus 7, but I'm actually waiting for the new iPad Mini to be my main tablet so I decided to get a cheap one I can root and play with. I saw some reviews online, and the CM Bolt seemed to fit my budget for a test device (below 5k, specs not so bad, and the OS is barely skinned/themed). I already have the larger iPad, which was why I got the 7-inch one.
Spec list for the curious:
OS: Android 4.1 Jelly Bean
CPU: ATM Quad Core CPU 1.2GHz
GPU: GC1000+
RAM: 1GB?DDR3
Storage: 8GB
Shell Material: Plastic
Screen: Capacitive Touchscreen, 1280*800 High-resolution Screen
Size: 7 inch
Resolution: 1280*800 Pixels IPS Screen G+G
Gravity Sensor: Yes
Visible Angle: 178°
Display: IPS
Dual Camera Front camera, 0.3 Megapixels
(Things to note: no bluetooth, GPS, 3G/sim slot.)
As a designer for various platforms (with Android projects coming in as well), it felt important to have more experience with other OS and not just iOS (though hey, I'm not complaining). I've recently switched back to the iPhone after a few months with the Windows Phone 8 (the novelty of 'something different' wore off, and with iOS 7, its good to be back), and now its time to try Android more regularly.
First Impressions
C was with me when I bought it and he was really skeptical. I don't blame him. We're both on iOS devices (he had an HTC once, which slowed down a bit too soon) so we're kind-of spoiled by speed, smoothness, design (hello iOS7!!!!) and general user experience goodness of the OS.
But I really needed to interact more with Android stuff for work.
Cherry Mobile isn't exactly there when it comes to visual design and branding (at the very least they have a simpler logo than MyPhone!) so once you get past the default, ugly, pixelized wallpapers, it starts looking acceptable:

(Thank you, Pattrn)
I used it all day on Sunday and at first it was quite buggy. I wasn't so sure if it was broken, or if it was a prime example of low-end tech. The keyboard would double-press keys, and sometimes touch would do the same (touch huge areas on the screen even when I'm not actually pressing on the other areas). I did a factory reset twice, and somehow it stopped being weird on a normal basis (it still happens but only when I try to multitask between apps, or send a number of attachments over email). So I'm just going to assume its not because its broken, but maybe because the specs are quite low. I notice this happened more often when quite a few apps that need internet connection are all on (messaging, fb, tw, email, etc).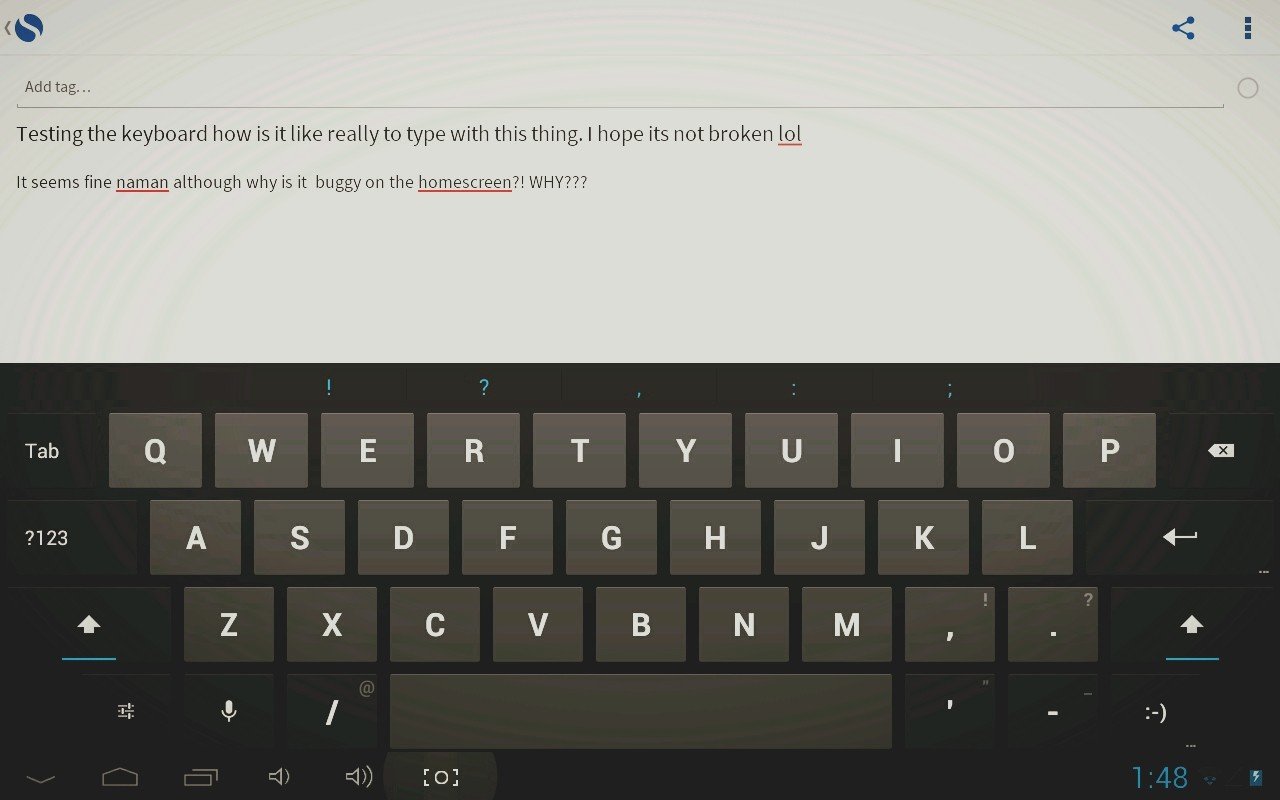 The way the resolution renders apps and sites is a bit annoying because even if the tablet is a smaller size, it shows a desktop view (or 10-inch tablet size) so most things are too small to be comfy. Had to go to Accessibility options and change the overall font size Large to make it readable.
It heats up a bit too fast and the wifi range is pretty weak (the wifi nearly ends at the edge of my bed at home, which is maybe 10 meters away from the router, hahaha), but IS only PhP 4.5k (from Cherry Mobile in Robinons Galleria even if other bloggers have gotten it for just 4k)!!!! I'm more surprised it works this well given the price point.
Since I have an iPad 3, I compared the experience of having a larger tablet, and for me pocket-size is easier to use. It feels easier and more natural to bring around for reading, browsing, reading emails, social networks, and the like. Landscape typing is harder on the smaller tablet though — it feels like I'm meant to type with my thumbs on it, the same way that thumb-typing feels awkward when holding up a big and heavy iPad. Being a cheaper tablet though, typing isn't very smooth on the Bolt so autocorrect always saves the day :P
Android Tablet App Market
I downloaded and re-downloaded a bunch of apps and the first thing I noticed is the lack of tablet-optimized apps in the Play Store. Even Path seemed to be for the phone-only. It's been a while since more Android tablets have come up though. Maybe Google needs to be a bit more aggressive with encouraging Android app teams. One of my main objectives in getting this Android tablet was to study the UI design, and very few stand out. I even ended up spoiling myself over Downton Abbey in my search for good tablet apps (because I haven't watched the Christmas special and CLIFFHANGER spoiled it for me when I wondered if Season 4 was on).

My only complaint at this point: the Amazon Kindle app keeps crashing when I load it so I can't load my Amazon e-books. Uploaded some books to Google Play (Books) instead (which weirdly enough you can only do online and not via the app) and it was pretty alright (page-turning smooth enough, given the specs. I'd want better reading fonts though, but it's not so bad). I also started trying out Google+ again, but I need to figure out a way to cross-post the status messages to Facebook or else I'm talking to a mostly silent audience. The App market is definitely better than Windows though so, hahahaha. Given that Android's tablet apps already felt lacking, I can imagine how populated the Windows tablet app market is.
I'll share my list of apps in a future post.
I'll be on Day 3 of testing the Bolt today (in which at the end of the week, if I don't need to get the unit replaced, I'll update the firmware). I left my iPad at work yesterday so I'll be forced to rely on the Android tablet and aside from the annoying keyboard lag and touch inconsistencies, its pretty OK (I'm writing the draft for this post on the Android as we speak). I even managed to do some responsive web design work (!!!) via Adobe Edge Inspect. It was not as smooth as Safari/iOS (but that's Android browsers for you).

Here's a recap of the pro's and con's
 Pros:
cheap (PhP 4.5k is cheap enough)
not much skin/bloatware
I can update the firmware to speed it up
I can root it and play with it and if it gets broken, I'd only have lost PhP 4.5k
7″ is a good size
Cons:
heats up quickly
battery lasts maybe 4-5 hours in full-use
wifi range is weak
no bluetooth (I didn't really initially think I'd want it, LOL)
heavy for the size, but not for its price
Set expectations to a low/mid-range Android device and the lag/slowness will be 'OK'.
I have a lot to say about the Android user experience compared to iOS, but nothing other people haven't already noticed and proven. Will write more in the next few days!