One day with a Nokia 520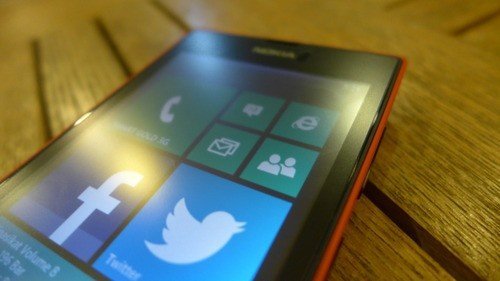 JJ saw me using my phone and said, "Do you have the same phone as C?"
YES. YES I DO NOW. Because I mentioned it to my mom, and told her how my iPhone 4S is broken (and the people said they can't fix the wifi), and that this Lumia 520 is only P7k.
So she lent me money and I got one at Greenhills. Cheapest I found was P6.8k, but they only had the black one. C got his for P7k, but he didn't come with me so we didn't know where exactly he bought his. This one was P7.4k, the cheapest I was able to find (only a few hundred bucks less than the standard retail price).
I've been using it since Sunday evening so a little over one day. I downloaded a bunch of apps already, some of which I already collected into a list days ago. I also figured out how to install apps from an SD card (not that I've made the most out of it because I only have an old SD card which is 2GB large, hahaha. That sounds pretty sad).
Some initial thoughts:
I really like the Metro UI for the phone.
For some reason, I'm not as constantly connected to 3G or wi-fi as I was on the iPhone. I'm not sure if this is a common problem, or just that this is actually a cheaper phone. I have an unlimited-data plan which means my free SMS and calls are limited so I wanted to make the most out of free messaging apps, but there were a bunch of problems with those. I will expound on it later.
The camera is really not so bad, for this price range.
The battery seems to heat up a little too quickly, but I don't think it's bothersome. I just don't know if it's natural/expected.
The Facebook integration is sometimes freaky. Like, it would be awesome if I could choose which groups I could connect with my phone because I don't really need everyone's names in there. It's just really convenient so that I get photos on my contact list, haha.
There is a fairly good range of apps. Some of them don't work as smoothly as iOS or Android apps, perhaps, but I think that maybe development on a WP for companies who cater to all platforms might not be that high on the priority list given the market share.
That said, the 520 is a really good phone for that kind of value.
I actually enjoyed looking for some good apps to use and here's a list of the ones I ended up keeping:
Viber and LINE were pretty much staples: Viber is the only way I can message my mom and brother for free, since they're both on iPhones. It's also pretty popular with most people. I kept LINE for a Japanese friend I occasionally messaged there, and because C and I used to chat there before he got an iPad mini.
My experience with these apps on a Windows Phone 8 was pretty bad though. LINE doesn't have calls (yet) and both of them have a horrible delay time when it comes to sending a message when the apps aren't active or in use. When C and I exchange messages consistently, it works as advertised. But when the phones are on stand-by, for some reason either the phone becomes disconnected to the Wi-fi or 3G, or the app stops working on the background. What happens is: notifications come in VERY late (usually during the time I use the phone again) so they're pretty much useless if say, someone sends me a message out of the blue using these apps. I probably won't see the message at the same time it's sent.
Talk.to is new: I'm not aware of an iOS version. But since the default Facebook app doesn't notify me when I get FB messages, I use this for FB messaging (and Google Talk if I had friends who used that). So far it's pretty good and more responsive than LINE and Viber. C and I will try switching to this for now, until the other apps become smoother.
I haven't really tried the other free messaging apps like KiK messenger,  but I might try it within the week.
Because I don't get to see the percentage of battery left by default on the hidden header, I needed this to see it as a tile. It came with other short-cuts such as Wi-fi and 3G connections, and it looked nicer than the other similar apps.
Simple and had better features than the others.
I haven't found another ebook reader for my non-Amazon ebooks, but the WP Kindle app seems to be okay.
As a reader, I really like it. Plus, you get to find RSS feeds from within the app (like Pulse). And there's a free version.
The only app I bought so far, because there is no official Pocket app. There are other options, but from the screenshots this seemed nice. A little buggy, but not a deal breaker.
For photo filters. The design is simple and the app is pretty easy to use. The filters are pretty okay, and not as bad as the other photo apps.
On the iPhone, Path is my go-to app where I write some private thoughts that I share with limited friends. Since there's no Path for WP8, I ended up going back to LJ for my deepest, darkest secrets (lol). This is the official app which is in Russian by default (good thing someone posted instructions on the comments to switch to English), but the UI to post a new entry is shit. I don't have a choice though, apart from using the mobile-web version of the site.
A music streaming app. I really, really like this though I haven't used the app that long yet.
I couldn't log in to my Simplenote-app account the other day so I couldn't use Feather Notes. But then again, I have some notes I store in Evernote so this is still useful to have.
Unit Converter, World Clock, Translator, Google Search, Counters
Useful apps that don't come by default.