Almost a week with an LG G4

I've been pretty content with Android since switching to a Xiaomi Redmi Note late November last year. Material Design is pleasing to the eyes, so it's still refreshing to get an Android design point of view when using apps (with the benefit of still getting familiarized with Android patterns). I still miss the iPhone camera and the latest beautiful apps that get launched on iOS first, but I feel very strongly that our team needs more design diversity so I decided to get a better Android phone. Something that's more than a budget phone but won't burn too huge a hole in my pocket.
In comes the LG G4, only around SGD $650 on average in Carousell, the lowest being SGD $550 in the marketplace. It got a pretty decent score on The Verge's review, and above average reviews when I googled. Suffice it to say, I was pretty sold.

Getting the Phone and Setting Things Up
I ended up getting the Ron Burgundy leather-back color :P and the Singtel set came with an extra battery (+ battery charger). First things first: I removed or disabled a shit ton of bloatware (but unfortunately couldn't remove Google apps that came pre-installed (like ALL the Google 'office' apps — Slides, Sheets, Docs). Ironically, it's the mobile-relevant Google apps that I had to hunt down from the Play Store (Messenger, Google Keyboard, etc.). The LG software was pretty ugly (made me miss MIUI) so I had to download and quickly replace the launcher with Google's own. After a few hours of figuring out how to migrate from one android phone (and a Xiaomi account) to another, my new LG G4 was all ready to go!
All the Good Things
I had a budget Android phone for the past nine months, so my benchmark is pretty low. Switching from a Redmi Note to an LG G4 was such a huge upgrade for me that I'm afraid it's 90% positive feelings hereon (the 90% being a rough, qualitative estimate!), but will just highlight a few that matters to me.
Camera. The camera is great! Tons better than all my past Android devices (which were all 'budget' types so uhm, I'm not exactly comparing a Samsung cam vs. an LG cam). The camera software didn't feel like it was better than the iPhone's own, but at least I can take photos that I'm not ashamed of posting on Instagram.
The photos will not win me awards, but for all vanity (and blogging) purposes, it will do. Here's a bunch of photos taken in the morning, sunset, evening, with a selfie to boot. (Quality may be lower than actual photos because of my jpg compressor). With the default LG camera app, the photos end up getting a bit too sharpened. I haven't tried shooting with manual and RAW yet; for now all of these are just taken with auto turned on.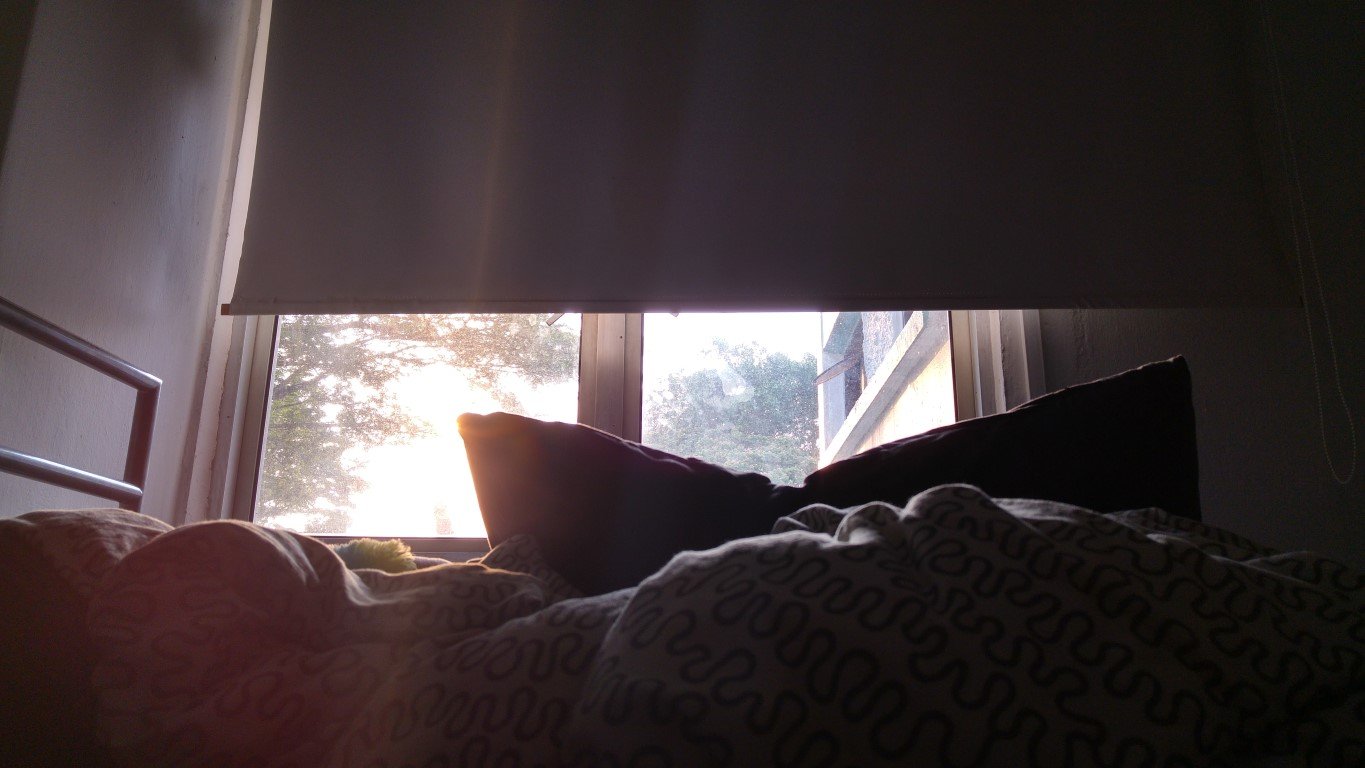 Storage. Expandable SD Card slot, yay! I don't care what other people say about expandable storage because ever since I broke my Nexus 7, I've been using my phone as my main device for content consumption. This includes watching Korean/Chinese/Taiwanese drama, reading manga, listening to music and podcasts, transferring photos via FlashAir from my digital camera, and the list goes on. A lot of my content consumption activities I prefer to dump in an SD Card, with all the other app stuff filling up space on my phone storage.
Screen. IS SO PRETTY. Technically, the screen colors seem to be brighter than actual colors, but I like it when colors are brighter (same reason I use a color overlay on Guild Wars 2). I actually was already pretty happy with the Redmi Note's screen, but I guess you never know what you were missing until you have it in your hands. Or in this case, until it makes itself known to your eyes.
Weight. IS PRETTY LIGHT. Won't break my nose when I fall asleep while watching or reading something, haha. I have nothing against plastic. Nothing!
All the Not so Good Stuff
Battery. NOW I KNOW WHY SINGTEL HAD A FREE BATTERY PROMO. The LG G4 will last the whole day if you spend 9-10 hours in the office and not so many hours actually using your phone. I left the GPS on while watching a movie and burned through battery in that amount of time. Not something I worry about when I was on my Redmi Note, but I guess the Redmi Note had a bigger battery. But if I spend my day like a tourist (or just generally unfamiliar with an area), using my phone+GPS to get around with the help of Google Maps, the phone will probably only last me half or a third of the day. When traveling, the extra battery is a MUST.
The LG logo in front is a waste of precious screen estate. If they really wanted some extra space at the bottom, it could've been hardware buttons — at least it's more useful than a logo.
Overall, I'm happy
The good still outweigh the bad, so I'm happy with my new phone! Only a couple of hundred dollars poorer, but retail therapy is doing its temporary kick!