Maundy Thursdate at Saint's Alp, Katipunan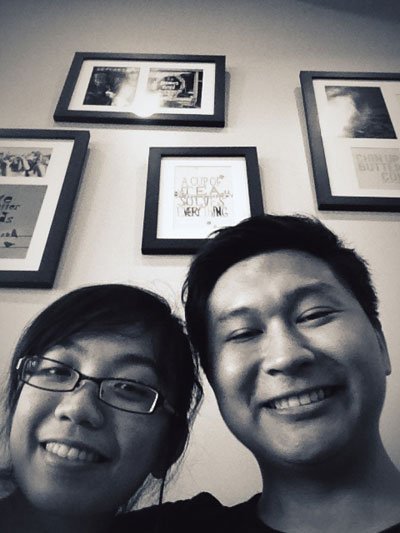 Honestly, I'm not the most religious person out there so my idea of a Holy Week holiday well-spent is getting some work done with C (though 50% of the time we're just playing Scramble and Words with Friends, haha).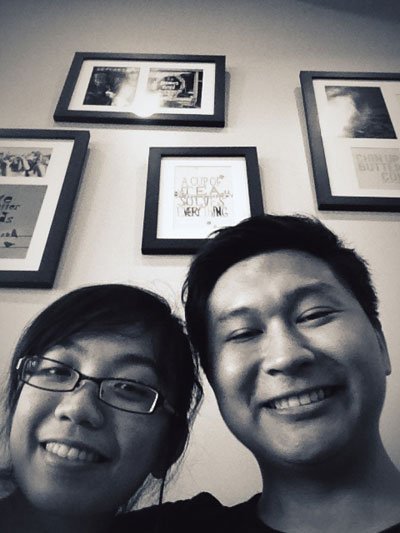 While most malls and establishments are expected to be closed during Holy Week, there are (thankfully) those heathen-run restaurants that are open (if not for all days during the Holy Week Holiday, a lot were open yesterday). C and I first hung out at Burger King in Marcos Highway because they have plugs and free WIFI! They also have an impressive Holy Week schedule where they're still open 24/7 for most days, and then for some days just half the day or closing at 9pm, but never closed all day.
That's what you call business dedication. Haha. 
The kids were getting so annoyingly loud though that we decided to quit the place and try to see if Saint's Alp at Katipunan was open instead.
THANKFULLY IT WAS.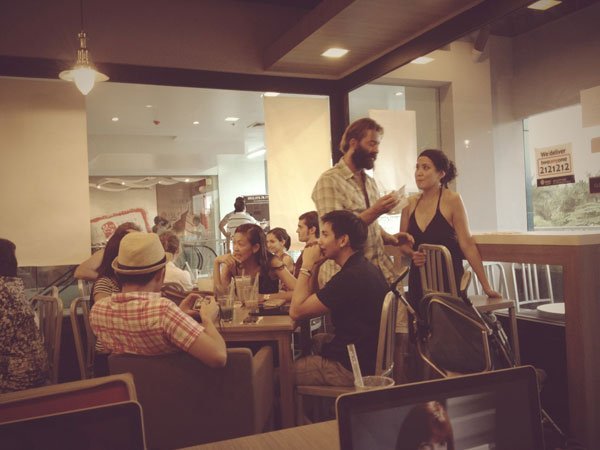 We got there around 4pm or 5pm, and got something to eat/drink while I finish working (C's taken a break since he's finished some work at Burger King already).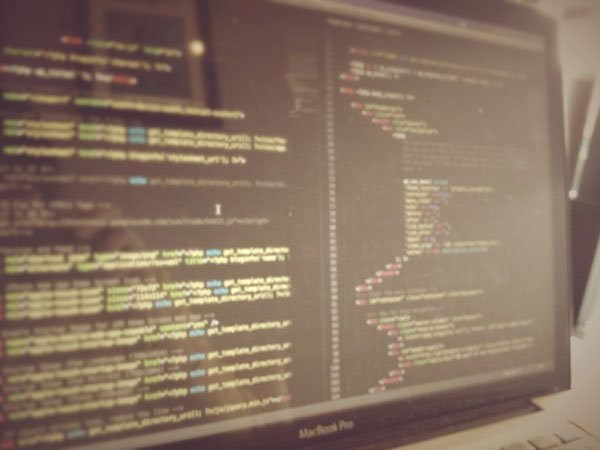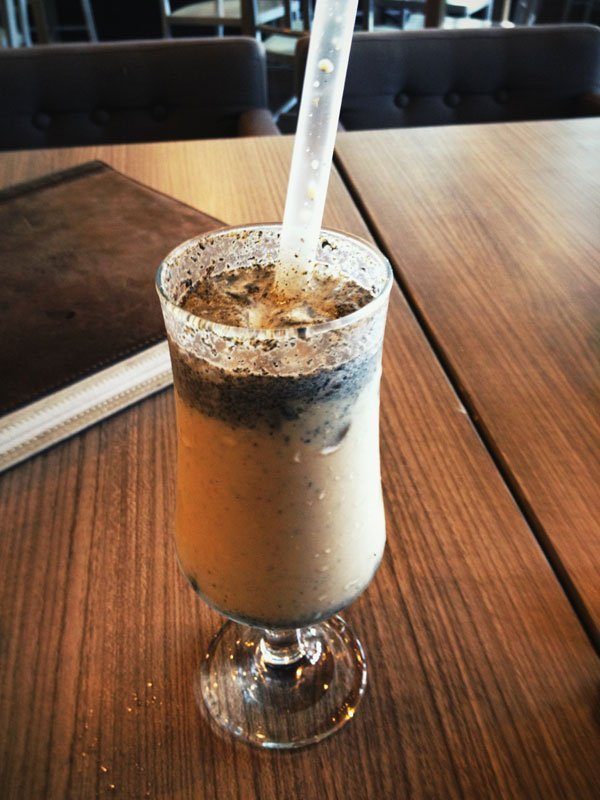 This was the first time I've went inside and ate at Saint's Alp. The place is really cozy and lovely. It's got a cafe kind of ambiance and if it weren't summer break, I could imagine so many university students in Katipunan studying there.
I ordered a glass of Black Sesame Milk tea for Php100. It's priced almost around the same range as Happy Lemon or your typical milk tea places. I like how they'd serve it in a glass though, if you're not going to get take-out, so at least I'm saving a bit of the environment in a way. The flavor was a bit weird for me, or kinda unusual, since I'd normally order the more common tea flavors (green or jasmine, for example), but it was a new place so I didn't hesitate to try something new.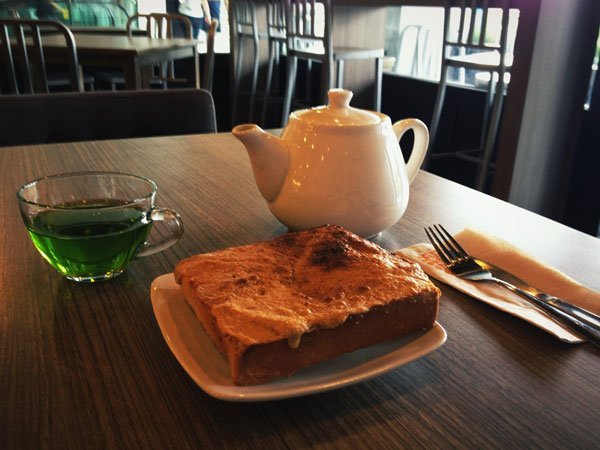 C ordered peanut butter toast and a pot of green apple tea for only Php90. Not bad. If you like peanut butter, then I think you'll love theirs. I'm not a big peanut butter fan though. The tea is also a bit sour, but since it's apple-flavored, it's expected. C liked it a lot.
We stayed there long enough to have dinner so we decided to try out their menu.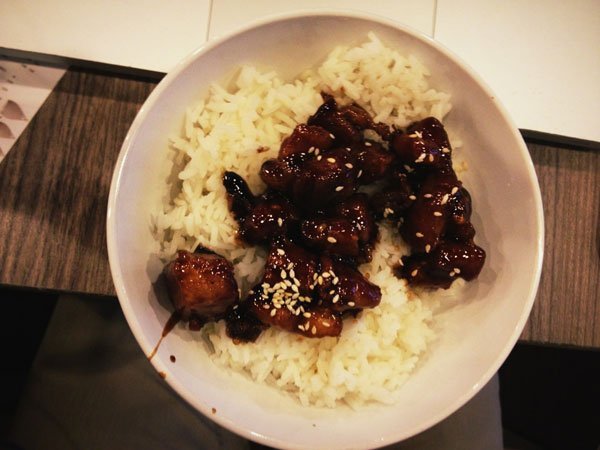 Honey Glazed Coffee Spareribs sounds yummy when you read it but we didn't quite like it that much. Eating meat that tasted like coffee and honey just got too weird for our tastebuds.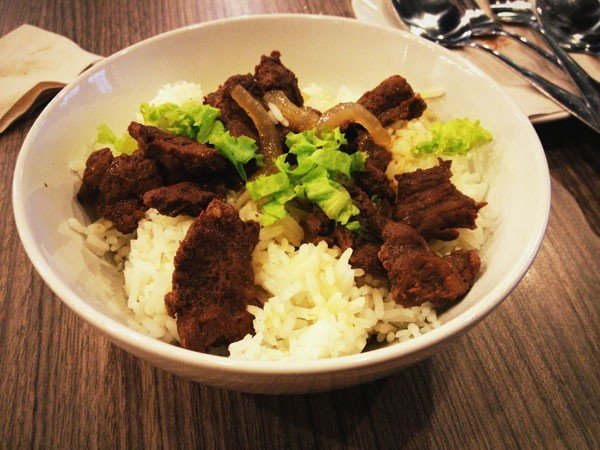 The Beef Tips in Garlic Sauce was a better choice.
The rice meals were pretty good, but still overpriced. We could have enjoyed better food or meals that tasted just as good at half the price at Eat! Katipunan. Although I guess what you're paying for is the comfy seats and cozy cafe ambiance Saint's Alp has to offer.
All in all, there's nothing better than spending a holiday with good food and the person you love. :)
Saint's Alp Teahouse is at 2F Regis Center, Katipunan Ave, Quezon City.