OK SINGAPORE, LET THE SUN SHINE. BECAUSE I BETTER USE THIS.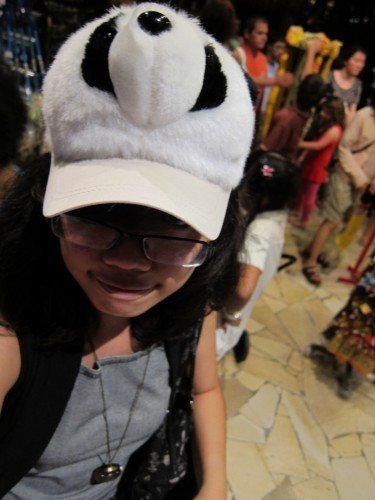 WAIT WHAT? AGAIN.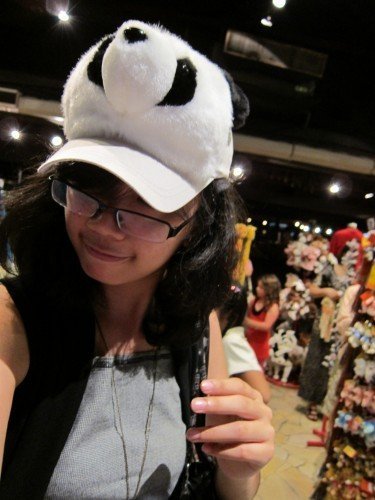 I JUST PANDA-SPAMMED YOUR BROWSER, BUWAHAHAHAHAHA.
Now I can say I literally, all-for-real, true-to-life, in-real-life have not much money. But I have a panda hat.
Before I made this ridiculous purchasing decision, let me spam my blog more with useless pics I took of other souvenir/merchandise from the Night Safari.
And then the paws…
At this point, Jian Shiang said Night Safari should just charge like a dollar for each picture taken with their merchandise, haha. Because seriously, these things are ridiculously expensive. I'm just a student, dammit. I won't need a scholarship to get here if I had the money for these sort of stuff! So I shamelessly try the paws and the hats and oh, those things you wish you can thoughtlessly buy.
But even though I complain, I bought the hat and a set of postcards anyway (the postcards were worth the price and I CAN'T WAIT TO USE THEM!).
Omg, I'm going to go trail-walking or kinda-hiking and I will be climbing up steep places wearing a panda hat. How can anyone not be excited!?
Of course, while this post on the Night Safari (NS) souvenirs mean that I've visited NS (and Jurong Bird Park) today (or technically, yesterday because it's 2.37 AM already), I won't post the animal pics here anymore. Anyone who's interested should just pay the very, very expensive tickets.
Was it worth it? Splurging my S$42 (for both zoos)? If you have better night-eyesight than me then, probably. I was disappointed that the supposedly reputable night-animals were so lazy and half-asleep or just resting in their cages/enclaves but it was a fun experience nonetheless.
A few tips:
if you're a poor student like me, or you just don't want to spend $12 over a meal (that I could have bought for $4 here at PGP), bring a sandwich for lunch and some cookies for snacks
bring a one-liter bottle of water (or two smaller bottles, if you can survive on that)
wear shorts. You may be going around some flora and fauna but we are talking about hot, humid weather and pants will kill you, I swear
in complimentary to #3, put on mosquito repellent (and bring the bottle as well)
put on SUN BLOCK. And don't forget your umbrella
do not miss the shows. That's what you paid for.