I've been wanting to get out of the city for a long time now, and I've honestly been feeling sick getting cooped up in the middle of all these buildings and of everything familiar. I confessed to Charlie that I wanted to just get a ticket to somewhere and then fly out spontaneously, without plans and with no warnings. After all, despite my tendency to plan every little thing, from the length of time to get from one place to another to a list of things I could possibly do in a place, I still haven't lost my moments of impulsiveness. It gets worse when I get antsy or restless or I'm sad or angry or depressed over some things (like a friendship issue I argued with Charlie the other day).
Charlie knows how I feel about these things (and how to cheer me up, I guess), so he said that maybe I should take a day off and we can have that day-trip (date-trip!) to Tagaytay (or Manila, but I said Manila is still too much of a "city" for me). Tagaytay isn't a beach or a plane ride to somewhere, but it's not like we could go abroad (maybe next time, because I'm also the type of person who'd just love to get at ticket for a trip that's a few days away without anything much planned except for a specific destination or two I'd try to figure my way to. I'm thinking it wouldn't be so bad to impulsively book a flight to Thailand (Bangkok) or HK or Singapore a few days or a week before, since I did that when I went to Phuket! No reservations and everything. And I got conned, but that's a story for a different day and a lesson never to be repeated again!).
So we took off on a small "adventure". We said we'd have lunch at Sonya's Garden (whose website needs some major revamping IMHO),  without reservations (and at this time of the year, when everyone's going on vacations and trips! Basically we're in a "come what may" mode), and then just chill in Tagaytay, wherever we end up going.
You know it's when you can spend 12+ hours together with one other person, mostly stuck in the car, but you still enjoy talking and making jokes and listening to a podcast and getting lost but still end up feeling like you just had the best trip ever that you realize, well, you probably make a good couple. 
Late Lunch at Sonya's Garden (so we ended up getting a Spa)

Conversation while we were still in Manila:
Charlie: Ok, we have a problem. I don't really know the way to Sonya's. Just the general direction. So let's make it an adventure?

Me: Yes! (actually, until this point in the morning, I didn't know we were decided on eating at Sonya's. Or I misunderstood what we talked about the night before, so in my head I was going, "Oh, we're eating at Sonya's? Okay!")
Which was also sort-of what happened on the way back when Charlie decided to try out what seemed to be a short-cut. But that's a story for later.
We asked around and got there albeit a bit late. It was past 1PM and there were so many frigging people. There was an event, a wedding reception I think, and families all lined up for lunch. The guy said we'd have to wait 30mins to an  hour, and we said it's fine we can wait. To kill time, we got a spa instead!
The Spa.
If there's one thing you should know, before this I've never had a spa before. I just wasn't comfortable with the idea of a stranger touching my body, and I won't see! Like touching my back even to give me a massage, or my legs or feet and everything. A person asked me to get a spa before, but I always adamantly said no. Or a 'yes' that meant 'not really'. I was still hesitant when Charlie was asking me if I wanted to get a spa, but for some reason I just went along with it this time (I guess being a passive person makes it easier).
And it ended up being a good decision (for both of us). Got oiled and spa'd and stretched and massaged and after an hour we came out smelling spa'd! Yes, spa'd. They also served us calamansi tea, which was warm and not too sour and just awesome. I wonder why they don't sell calamansi tea elsewhere, because it's really good.
We went back to the reception area and tried to find the guy who listed our names, since we weren't contacted at all even after having that spa. I was telling Charlie that I doubt the guy would even try to contact us about a free table and that I bet he forgot all about it. Because he only attended to us when we got there already. It's a bit of a bad customer service kind of experience, but we were hungry and we waited (like paid waiting because we got the spa and all).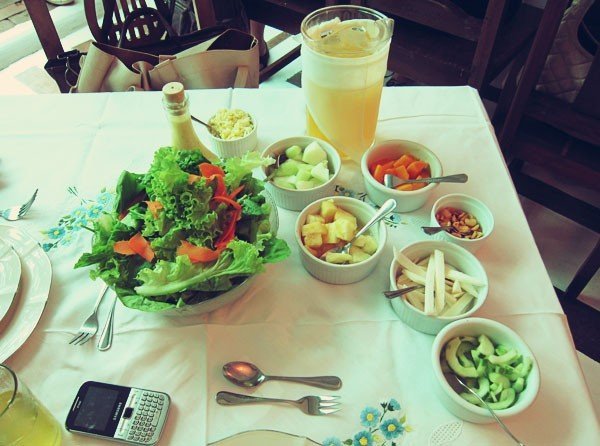 The Lunch (technically a really late lunch at almost 3PM).
It was the first time I had lunch at Sonya's, unless you count Reese's debut (two years or so ago). It's a fixed amount and menu kind of meal, but it's a buffet so I guess that's why you're paying Php610 per person. I'm not really sure if the taste is worth it because the pasta was just so-so, but the salad and bread were both very good and fresh. The diced mangoes were sweet and perfect and their special salad dressing was great. I would have taken one home, but I didn't have money so I didn't check if they sold it. :P

Their pasta is average. The white sauce was thick, but a bit too thick, I think. I didn't try the tomato sauce, but Charlie preferred the white sauce over the tomato. The salmon fish looked like fried pork (haha) and it was fine. As a whole though, the pasta set wasn't something you'd be dying to eat again.

Dessert was a much humbler set. It could have been better. I mean, serve me one slice of cheesecake and I'd have been more satisfied.
I guess more than anything, what you're paying for is the place and ambiance, not the food. It's definitely a good, short getaway from the city.
I've been to Sonya's Garden two times before (two or three years ago and a year or so ago) and the place is definitely changing. I suppose I'm lucky that during those two times there weren't much people there so I appreciated taking pictures among the flowers and the benches more. But there were some subtle changes like a missing barrel or pinwheel that for some reason it doesn't feel as serene as before. I'm not sure if it's only me, or if it's because of all the people during vacation season.
The way back
This is the part where I can talk about getting lost. Road signs in the Philippines are NOT tourist-friendly at all, even for locals. There was this small sign that said "TO MANILA" which Charlie chose to try because of the traffic in Tagaytay on the way back, and we totally missed this one other small sign that followed the first, so we ended up following this other car further south. There was a sign that said "YOU ARE LEAVING TAGAYTAY" and both of us (who are really bad at directions) just thought, oh, we're leaving Tagaytay and going to Manila!
Until it was just rows of houses and more trees and buildings were nowhere in sight. In fact, we passed by this truck with cows in it.

We probably should have turned back at that point, but we're just so adamant with the route we took thinking it must lead back to Manila somehow. But at one point there was this place where there seemed like an event near a field and we just had to ask how to get to SLEX and then…we were told to go back the way we came. That's how we found out we missed this ONE FRIGGING TURN like 30 minutes ago.
I also got to ride through the Skyway for the first time. I asked Charlie if we could open the windows and we tried, for a bit, but it hurt and we both wondered how Jeepneys going at 100KPH on the Skyway didn't kill their passengers.

I won't be seeing Charlie until after New Year's (he's in Boracay! No fair! Haha), so it was a lovely date to end the year. :) It's been such a horrible, traumatic year for me, but at least, relationship-wise it was a pretty good year.