Where is my morning sugar?

Every time I have to make my brain run a coding marathon, I just crave for sugar. Which was why my sugar sheep cookie was gone in an hour last Friday, despite my efforts to hide it in the drawer after each bite (a futile attempt to prolong its life).
aria can't remember giving me the same sheep cookie two years ago (August 2009. I remember the date because  I blogged about it (together with some ramblings about Philo, and a rave about Richard Armitage, hot British actor!!! YOU MUST WATCH NORTH AND SOUTH IF YOU'RE INTO CLASSIC BRIT NOVELS. Or, if you're into hot guys with an accent.) long before Facebook took over Multiply), but she did (I kept it for two or three days in the fridge before finally eating it) and I still have the photo: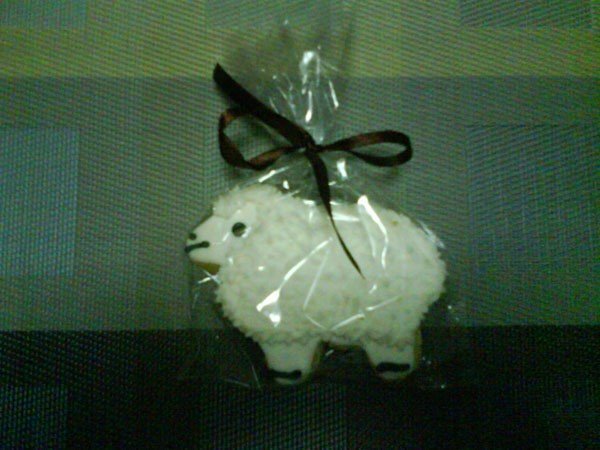 The brief caption for it went:
last Tuesday (I think) Ria gave me this sheep cookie. IT'S MY MOST FAVORITE KIND OF COOKIE OF ALL TIME. THE ONE WITH THE HARD ICING ON TOP. and yesterday I ate all of it haha. It was sooo tasty. I want more cookies. :( Give me one for my birthday? :D
It even has the same ribbon as the 2011 Cookie, but don't you agree that they got better with the face? :)
I bought the cookie in Greenbelt 5 for fifty bucks and gawd, I want one right now.
I want cookies. Not the Chips Ahoy kind. The freshly baked ones. Like, I need to bake soon.