Keeping myself in PGP in multiple attempts to force myself to study, not even logging in on MSN and YIM for a week, contributes very little to my academic life.
In short, traveling had evaporated most of my drive to study. I have done almost no "reading" during Reading Week.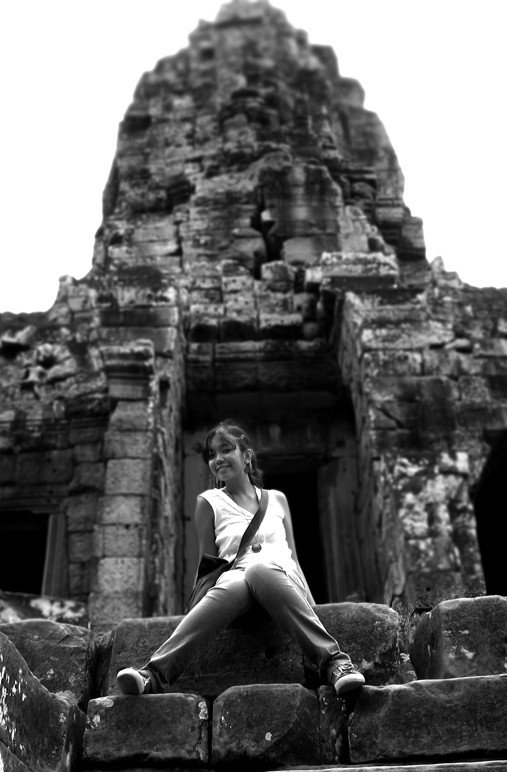 Going to Phuket, Thailand from the 11th to the 14th then to Siem Reap, Cambodia from the 18th to 20th was probably not the best prelude to final exams.
The best thing about getting to travel without parents (and in foreign countries) is the fact that I have experienced it. This. That. Those. One thing I promised myself is that I will definitely, oh most definitely, go back to Thailand because I fell in love with it as deep as I wanted to fall into its beaches. I can't wait for an opportunity to go to Bangkok and then travel to the North, which a friend-of-a-friend had done.
I was deeply moved more by the poverty I saw in Cambodia than its immense god-stricken temple ruins and I was bothered by the regrettable fact that despite the similar state of poverty in the Philippines, I had to be moved by it in a foreign country. Or maybe I just had more to regret in Siem Reap than in Phuket.
Regrettable, life-changing drama from my first semester this year (June-October) had diminished what was left of the industrious, studious, note-taking and book-hogging student in me. That was followed by an unusual but exciting pre-second-semester (with all the Production gigs I got involved in while I waited for the results regarding one semester's worth of scholarship at the National University of Singapore). Perhaps I just started to be convinced of "all the wrong things" — or things my mom would definitely disapprove of, or maybe I'm just tired of Ateneo and I just want to leave my frustrations with that university behind as soon as possible, but I'm not very keen on exams and tests anymore. The effort I exert on academics is merely a fraction of what I had been sacrificing for it when I was in sophomore year. I just want Friday to arrive and then I'll be going to Bintan, Indonesia for two days worth of relaxation and water sports and amazing fun with two awesome friends I've made here. Then I can't wait to get back to the Philippines where I can dive back into creative projects and actually do something to change my room's design (ASAP). I left the Philippines four months ago looking for a muse and now I've found some inspiration, I can't wait until I get my hands on materials to create lovely things.
Pigging out may or may not be related to my horrible study habits but today I've successfully saturated myself and sworn off junk food. I just finished a pack of potato chips for lunch and I feel so queasy, I'm sure I won't be eating a whole pack in a long time again. While yesterday I stuffed myself with all forms of sweets: cheesecake, ice cream, cupcake, chocolate. I swear, I don't know why I can't just balance my food intake to satisfy my picky taste buds.