I never really knew coffee could taste this good!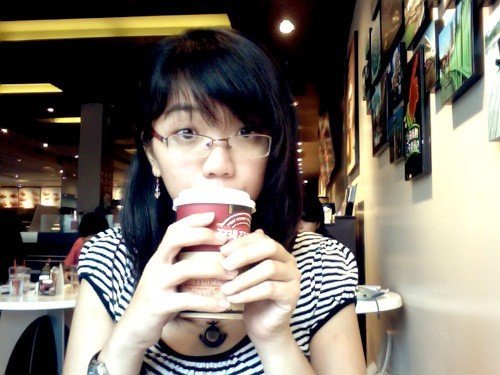 Since I've been camping out at Seattle's Best Katipunan since last week, I've been drinking lots of coffee (and it shows, because my skin reacts badly to caffeine. But whatever. I need to jump-start energy!). I love the flavored latte and mocha. Last week I had hazelnut latte. Yesterday I had white chocolate mocha (and it seemed to work! I was up until 3am, haha) and today I got a cup of hot raspberry kiss mocha and it's so good! Adrielle was right!
Before I resume doing work for Sindikato, I feel fired up to just finish homework for FA172.4 that's due tomorrow. Sam from class is so good already, while I still can't code jQuery/javascript on my own. :( I've been attending class with so little sleep lately, nothing is getting processed in my head right during lectures. Though last weekend I tackled our Flash project, so this should be just as doable? I think so! I hope so! I did a part of what sir asked us to do, but I'm sure there's a shorter way of coding it because I know I did the long way. We'll be coding during/in class for our finals, and we don't even do that for Flash hahaha.
Despite so much work going on in life, I know I'm going to be learning so many things and challenging myself in every step in the process. During Flash class this morning, Adrielle, Rob, and I were looking at portfolios made in flash and they were so damn good! Creative concepts and beautiful designs — just what I want to be able to make for others (and myself) eventually. Once this semester is over, I'll give Indioboy a make-over. I mean, really, I better be ashamed if I'm not able to design something dynamic after taking all my subjects.