I love the cold weather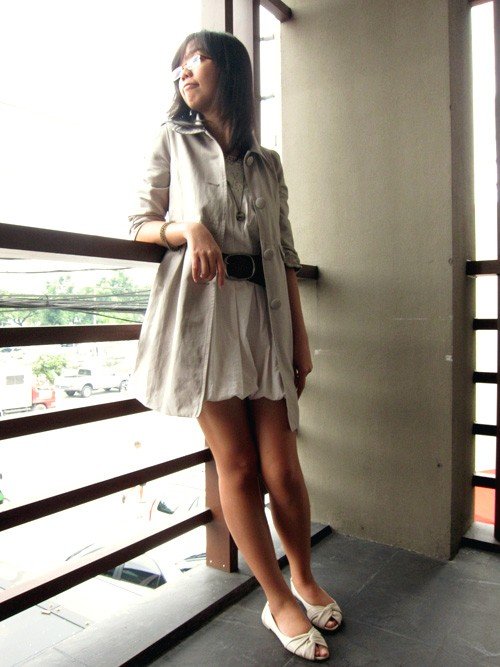 Cold weathers make it easier to layer or wear more interesting pieces from my closet: coats and blazers.
This week I've been bringing a light dull-brown pseudo-coat (it's not really a trench coat since the sleeves are only 3/4's). It's perfect for the Philippine weather because it's not too warm (not full sleeves) and the length is long enough for shorts and dresses. :)
This morning had been a series of stress-inducing situations. The pictorial people were late in accommodating us (8am-9am) so Lala and I were late to Flash class. I'm not happy with my grad and lifestyle pics, I wasn't able to finish the graded seatwork for Flash, I was late to Imbong, and I thought I forgot my phone in the CS lab during that period. STRESS. AND I WAS JUST TOLD WE HAD THESIS CLASS YESTERDAY. I DID NOT KNOW. I thought our next class was the formal defense already. :( And I've been so out of it yesterday, I couldn't even function properly enough to maintain a conversation or to work that night while at Seattle's Best. To make things worse, I have rashes all over my body because my skin asthma reacts mainly to bad stress and no sleep. :(
Yes, Seattle's Best Coffee (SBC!) is starting to be my org's new tambayan, hahahaha. Since it's hell month (hell semester?), we've been going there to work and do more work. I know we're supposed to eventually get tired of it, of staying here at SBC, but it's just so convenient. Plugs + internet + food + great coffee + chill areas. What more could you ask for? And it's so near the overpasss, we can just walk going there, haha. I've been spending so much time here (yes, I'm here at Seattle's typing this!) I made up this joke (which is amusing mostly only to me! JUDGE ME KINDLY, PLEASE!): SBC = SBusy. GET IIIIIIIT?