Ganso-Shabuway at Greenbelt

Went out with some friends tonight and had dinner at Ganso-Shabuway (near Gelatissimo). I'm sure Japanese hot pot is definitely better when you're in Japan, but I found the beef at Ganso-Shabuway soft and really delicious, so this is still worth the money! I shared a large serving of meat with Angelica, while the boys had large plates for themselves. Before you even finish your meal, you'll find yourself feeling full already and eating mostly due to gluttony than anything else.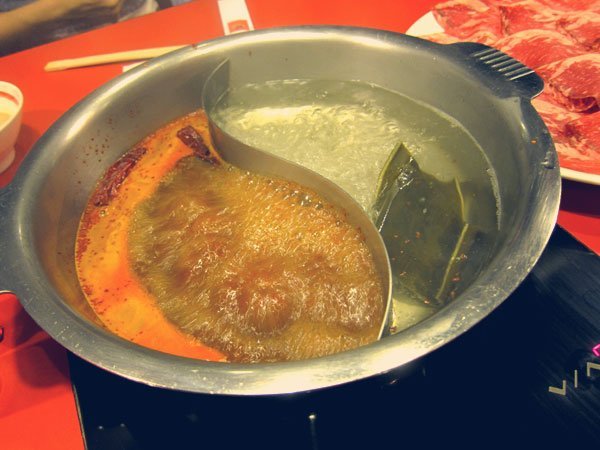 The first step in ordering is choosing what broth you'll want for your hotpot. Angelica and I ordered the half-and-half, but we ended up loving the spicy one on the left more. Personally, the spicy soup adds flavor to the meat and vegetables. Now I know what to get when I eat here again. :P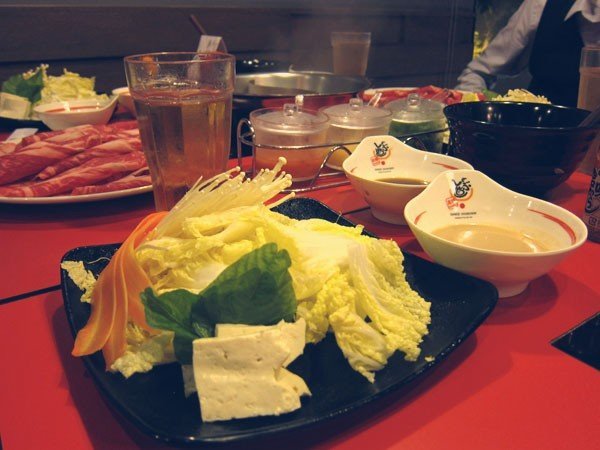 Step two: you choose the vegetables you want. There are two sets, and the default that comes with the meat is Set A. This is Set A. I think you get more variety when you order Set B. But here we got some thin slices of carrot, a lot of leafy lettuce (?), two small slices of tofu, and some mushroom.
You can also order noodles and other add-ons, but we'd rather get full with the meat than by anything else.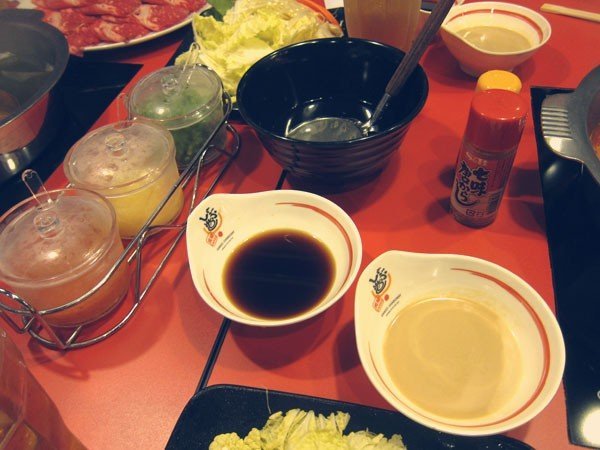 Mixing the sauce: the chili paste and the green stuff go with the dark sauce, and the garlic paste go with the peanut sauce (the lighter one). I love the lighter sauce more than the dark one (which I left untouched for the rest of the meal after trying both of them once). But if you want, you could maybe experiment with the sauce. :P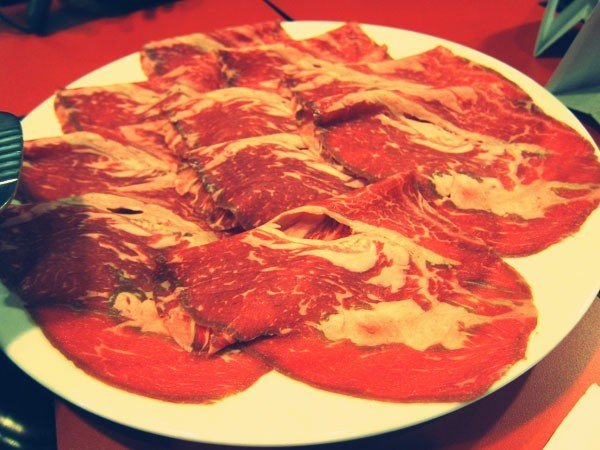 That is what Angelica and I shared. I never even kept track of the amount of meat I was eating. We just put meat and vegetables into the hotpot, dip them in the sauce, and then eat!
I'm not even into hotpot that much (some of my family are), but this was one Japanese hotpot that I'll never pass for. There's a sharing fee of Php250, so Angelica and I ended up paying around Php460 each, plus the service charge we shared among each other. We reached around Php2.5k for four people, but it was so good, I swear.
I'm so glad Angelica and Cholo invited us to have dinner with them! Such a happy night. :)